COUNTERPARTS SALZBURG 2006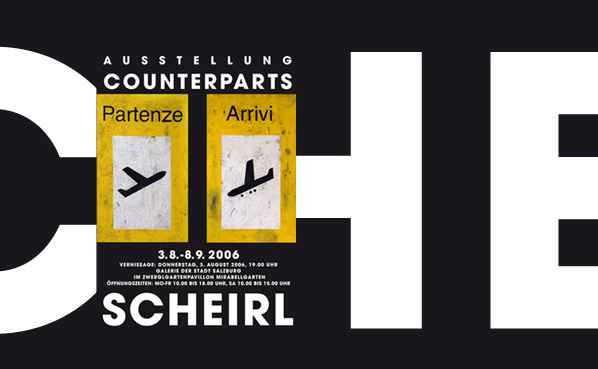 Zwerglgarten Pavillion im Mirabellgarten, Salzburg
04.08.-08.09.2006
Counterparts
The beginning of a dialog, of coming to terms with yourself and your environment always requires a separation of subject from object, whereby here these roles can be reversed. In art this interaction generally takes place between the art piece and the observer. In his "COUNTERPARTS" Scheirl here introduces another kind of interaction, namely that of the dialog between the art pieces. The observer is the outsider bursting in on a conversation already in progress. Form, expression and technique emphasize the individuality of each work – the juxtaposition of a partner piece or counterpart with the same subject renders very diverse views. It could almost be perceived as a democratic process.  The basic theme of the street and of the reflections found there is maintained. The subjects reflect, in the true sense of the word, the course of life and the traces that are left behind, sometimes hardly distinguishable, sometimes current – partly merciless, but always authentic.  The creation of this additional level of dialog between the counterparts gives way to an odd  kind of tête-à-tête of the pieces of art among themselves. The observer becomes a participant in this conversation.
Stefan Schwaighofer
Counterparts – Gegenstücke
Der Beginn des Dialogs, der Auseinandersetzung mit sich und seiner Umwelt erfordert immer eine Trennung vom Subjekt und Objekt, wobei hier die Rollen getauscht werden können. In der Kunst findet im allgemeinen diese Wechselwirkung zwischen dem Werk und dem Betrachter statt. Scheirl bringt hier in seinen -COUNTERPARTS- eine zweite Wechselwirkung ins Spiel – den Dialog zwischen den Kunstwerken selbst. Da fühlt man sich wie ein hinzukommender Dritter, der in ein laufendes Gespräch zweier oder mehrerer Personen hineinplatzt. gibsonclarencexd.blogspot.com Form, Ausdruck und die Technik der Darstellung heben die Individualität des Einzelobjekts hervor – durch die Gegenüberstellung eines Partnerstückes (Counterpart) das dem gleichen Sujet folgt – ergeben sich die unterschiedlichsten Auffassungen. Man kann das fast als einen demokratischen Vorgang bezeichnen. Die Grundthematik der Strasse und auch der auf ihr stattfindenden Reflexionen wird beibehalten. Die Sujets widerspiegeln im wahrsten Sinn des Wortes den Ablauf des Lebens und die Spuren die es hinterlässt, manchmal kaum erkenntlich, manchmal aktuell – teilweise brutal, aber immer authentisch. Durch den Aufbau dieser zusätzlichen Dialogebene, der Counterparts, beginnt eine seltsame Zwiesprache der Werke untereinander. expired domains . Der Betrachter wird zum Teilnehmer an einem Gespräch.
Stefan Schwaighofer